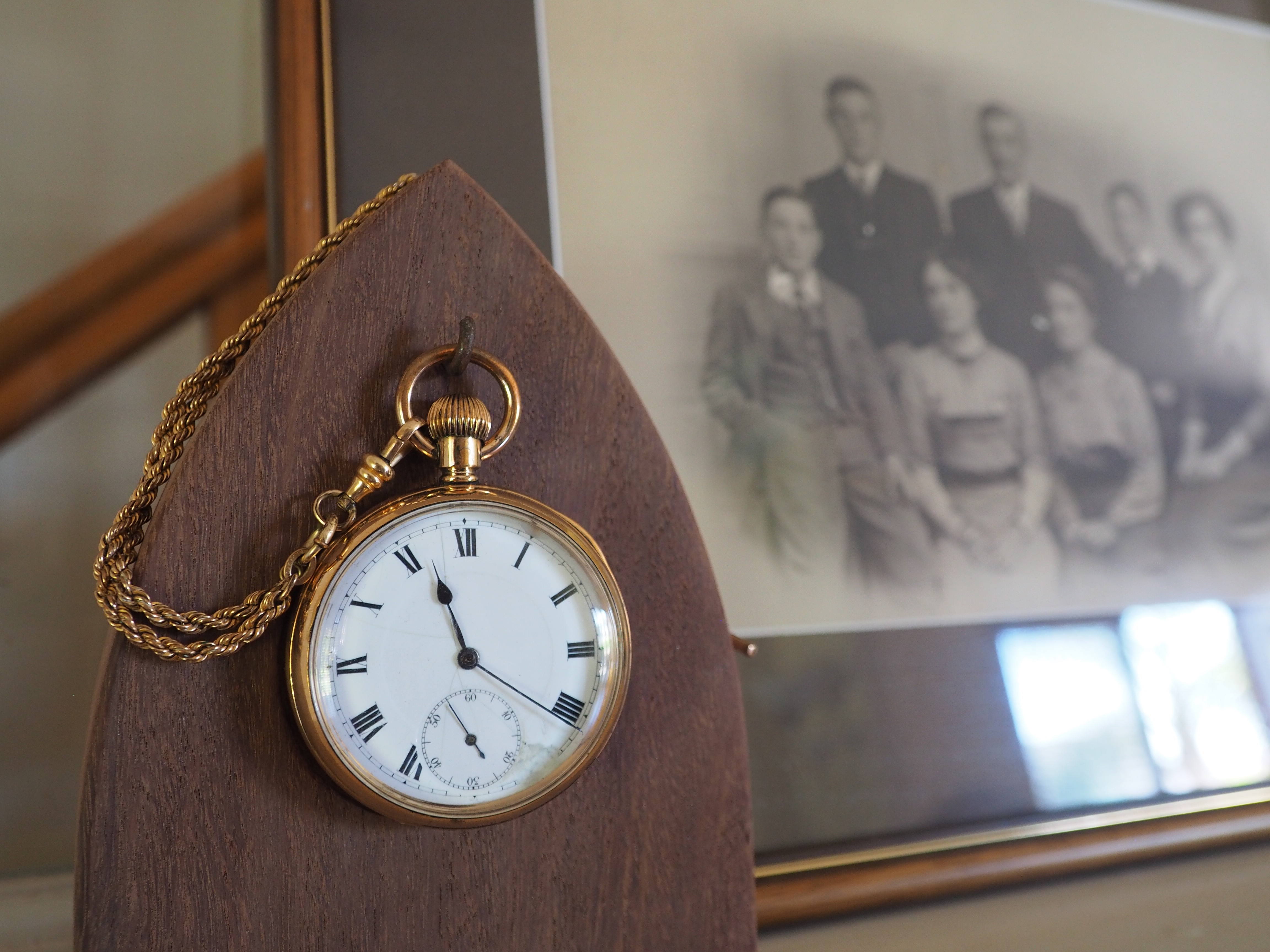 One of our lesser-known services is converting mechanical watches to a quartz movement. There are many reasons why someone would be interested in going this route for their timepiece. Quite often it's due to lack of available parts or that they have had the watch repaired in the past but it continues to give them problems in keeping time.
We are always up-front and honest about how a quartz conversion may affect the value of the watch, as many of these are vintage or antique, and a conversion alters its original condition. However, many old watches may not have much value as an antique, and usually the owner is converting it simply to make it functional and/or for sentimental reasons.
That reason is why we were contacted to convert a pocket watch for someone halfway around the world.
Kent, a young man from the Sydney, Australia area, contacted us through our Quartz Conversion form about converting a pocket watch that was handed down through his family. Here's what he first wrote, along with a photo of the movement:
I would like to enquire about having my great grandfather's wind up pocket watch movement converted to quartz battery powered movement. The watch I believe is approximately from the 1910s/1920s maybe and is currently not working (hence the conversion). My intention is to have it working so that my father can wear it with his suit to his daughter's wedding later this year.
Before he shipped it off to us, we communicated back and forth a bit more to make sure the proper movement would be available. Here's an excerpt:
It's sometimes difficult to find a proper movement that will work with pocket watches because of the distance between the hour/minute hands in the center to the sub-second hand. Can you send us more photos and also the distance (in mm) between the center of hour/minute hands to the center of the sub-second hand from the dial side/face of the watch?

If it's not important that the sub-second hand moves, that could be a workaround for finding a movement that fits.
Also note that the second hand will "jump" from second to second instead of "sweep" like it normally would.

Since it's a family heirloom, also be sure that it's something you (or your father) are comfortable in doing, as this would permanently alter the watch. Unfortunately we aren't appraisers and can't tell you its worth, so it would be your call if you want to make the change.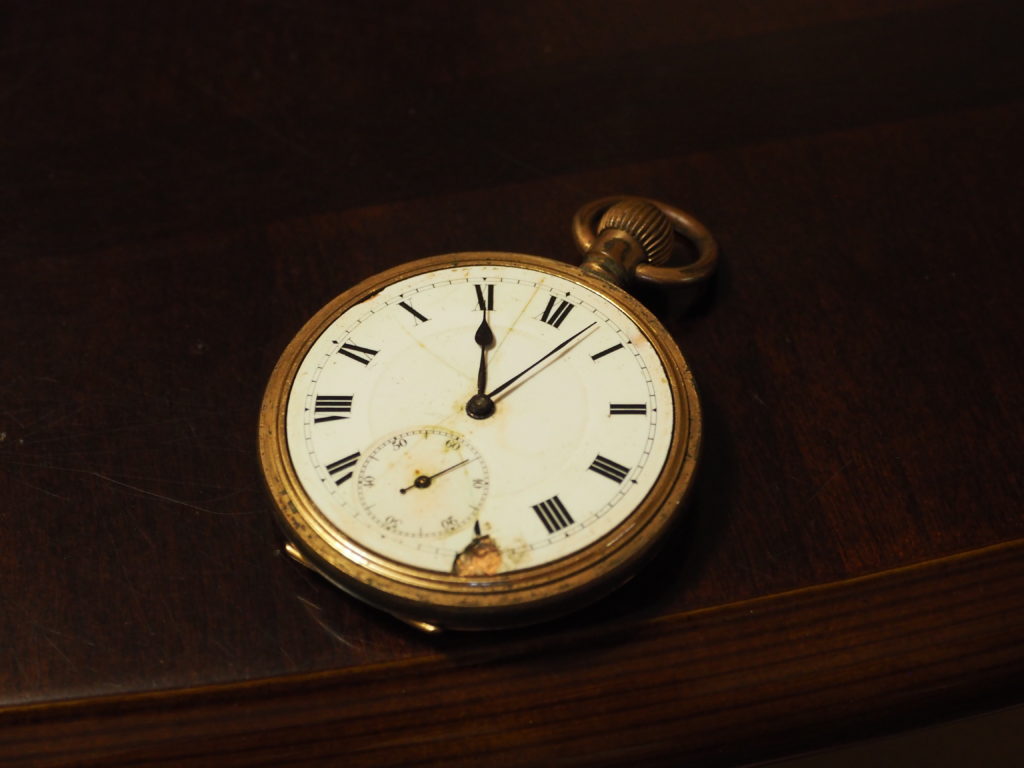 Kent replied:
I fully respect the technicality involved with having the sub-second hand working and such would expect that to remain fixed in place. Hopefully that would make the task a little more realistic to achieve.

Thank you for your concern regarding the value. I have discussed this matter with my father, and we both agree from a usability and longevity point of view that replacing with a quality quartz movement would be the best option for us.
With that, the photos he sent, and the measurement in mm between the center of the hands to the center of the sub-second hands, we determined that a movement was available, but likely not one that would allow the sub-second hand to work. As you can see from the photo, the dial also had suffered damage near the 5 o'clock hour and there were some hairline cracks that were dirtied by oil.
Kent sent the watch to us at the end of March. We asked if he'd like us to also polish the watch case and also try to fill in the damaged spot with a special white wax that would help disguise the damage. We don't like to assume that everyone would want certain changes that we could make to improve the look, as they can sometimes be a fond reminder of how the damage occurred in the first place. Kent was keen to have us do both.
Our normal turnaround time is 2-4 weeks, and in this case we wanted to be sure the watch was running well for several weeks before we shipped it. In September, a few months after we sent the watch back, we received this nice email from Kent:
I thought I would send a couple of photos of pocket watch you guys restored. My older sister got married last Saturday on a beautiful, special spring day here in Sydney… where the watch made an appearance! I have attached a couple of photos (taken from my grandfather's film camera) of my dad wearing the watch on the day and also one of the watch on display in our house. As you might be able to see from the photo, there is an original photograph of my dad's grandfather's family from back in the early 1910s.. you may be able to make out the watch chain.

Thank you again for the time, care and effort you guys put in! It was definitely a talking point & my Dad absolutely loves it. You should have seen the kudos I was getting from people after explaining to them I had it sent to the US!!


Kent's father checking the time on his daughter's wedding day

The converted pocket watch on display at home in Australia
Many thanks to Kent for trusting us with his cherished heirloom, the photos and nice comments!
If you're interested in learning more about our quartz conversion services for watches and clocks, please don't hesitate to call, stop in the store, or fill out our form for an estimate on your timepiece.